The United Auto Workers is poised to strike at midnight as the union insists the company proposals, which include double-digit wage increases, fall short of meeting the union's demands.
During another of the Facebook appearances, which have his favorite communication tool, UAW President Shawn Fain warned the union was prepared to use a series of selective strikes or what he called "Stand-Up Strikes" at each of Detroit three automakers if there is no settlement is reached by 11:59 p.m.
Fain continues to attack
The Stand-Up Strike is a new approach to striking. Instead of striking all plants all at once, select locals will be called on to "Stand Up" and walk out on strike, added Fain, who said the union is planning a rally Friday afternoon after the contract expires.
"As time goes on, more locals may be called on to 'Stand Up' and join the strike. This gives us maximum leverage and maximum flexibility in our fight to win a fair contract at each of the Big Three automakers," he added.
"Locals that are not called on to join the Stand-Up Strike will keep working. We will not extend the contracts, so you will be working without an agreement," said Fain, who added the union's economic justification are plain.
Since 2019, profits of Detroit's Three automakers have increased by 65%, car prices have increased 34%, inflation has gone 20% but wages have increased by just 6%, while labor costs have gone up by between 4% to 5%, according to the UAW. Fain adds the automakers could afford to double the wages of auto workers and it would not have impact on their financial position.
Automakers facing mounting pressure
The negotiations are continuing basically around the clock. But Fain's attacks — and his decision to negotiate simultaneously with all three companies appears to have rattled the automakers.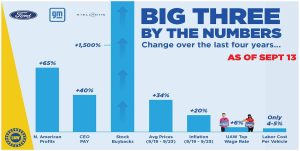 Ford CEO Jim Farley complained, "The first we learned President Fain received the offer was on Facebook Live this evening. "So again, we are here and ready to reach a deal. We should be working creatively to solve hard problems rather than planning strikes and PR events," Farley said.
"On Tuesday, Bill Ford, Ford's executive chairman who has participated in negotiations with the UAW going back to 1982, and I sat down with the union at the main table for a major offer," Farley added. "As we were walking in the room, we learned President Fain would not be attending. Nevertheless, Bill and I laid out a historically generous offer to the UAW Ford bargaining team because we listened to the UAW demands and we care about our employees."
The offer "significantly" increased Ford's proposal on wage increases; offered Cost of Living Adjustments, or COLA; fully eliminated wage tiers so all employees can achieve industry-
leading wages – and shortened to four from eight years the time it takes hourly employees to reach the top wage; and increased contributions to in-progression retirement savings.

"We have treated the UAW with respect. We have been incredibly supportive of the union. We have gone well beyond any contract language in adding jobs and investment," Farley said.
Tobin Williams, Stellantis senior vice president, said since Monday, Stellantis has continued to meet with the UAW subcommittees to "resolve outstanding issues, proof that we can work together to find solutions on tough subjects. We also passed our second economic offer as promised as well as a third offer yesterday."
GM also says the negotiators are continuing efforts to reach a settlement.
"We continue to bargain directly and in good faith with the UAW and have presented additional strong offers. We are making progress in key areas that we believe are most important to our represented team members. This includes historic guaranteed annual wage increases, investments in our U.S. manufacturing plants to provide opportunities for all and shortening the time for in-progression employees to reach maximum wages," GM said in a statement.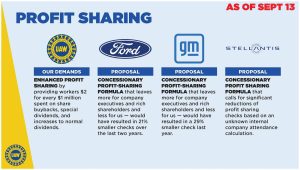 Even the Biden administration is keeping a close eye on the talks.
"We're focused on the here and now," Gene Sperling, the White House Adviser assigned to watch the negotiations told the White House. "Right now, you want everybody at the table 24/7 working to hammer out an agreement that ensures UAW jobs continue to be strong middle-class jobs and that UAW workers stay at the center of an auto future made in America," Sperling said.
"If they win big raises and end tiers, they may stand a chance of avoiding a strike at all three," noted Art Wheaton, a Cornell professor of labor relations in an e-mail. "I don't think Stellantis cares if they take a strike. They have lots of inventory and a bad attitude."