It's a different climate north of the border when it comes to contract talks between the Detroit automakers and union auto workers. GM workers represented by Unifor agreed to a new four-year deal with the automaker over the weekend.
As workers continue to walk picket lines at Ford, General Motors and Stellantis plants in the U.S., 4,300 GM union auto workers in Canada ratified a new four-year pact by more than 3-to-1 margin.
"Unifor members at General Motors facilities in Oshawa, St. Catharines and Woodstock have voted by 80.5% in favor of a new three-year collective agreement," the union announced Sunday. The initial deal came after a short strike of less than 12 hours.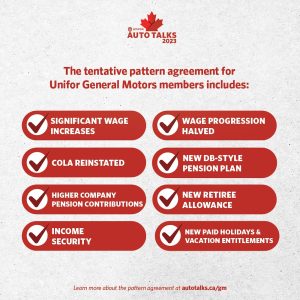 "The agreement was supported by a majority of production and skilled trades. The master bargaining committee wishes to thank the members for their incredible support and solidarity."
Short holdout
The strike came about, according to Unifor, because GM was unwilling to follow the pattern from the union's deal with Ford Motor Co. Ford was the union's strike target, approving a new deal last month after averting a strike with an extension.
The Canadian workers are seeking many of the same things their American counterparts are currently engaging in a series of walkout strikes to secure. Currently, there is no agreement with any of the automakers in the U.S.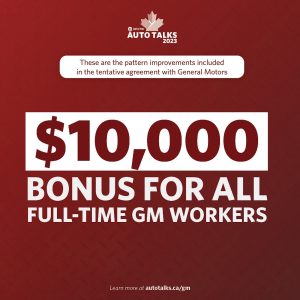 The highlights of the new agreement include:
Base hourly wage increases of nearly 20% for production and 25% for Skilled Trades over the lifetime of agreement.
By the end of the three-year agreement, a top-rate production assembler will be paid $44.52 per hour, in addition to a forecasted $1.61 cost of living allowance (a total of $46.13); a journeyperson skilled trades worker will be paid $55.97 per hour, in addition to a forecasted $1.61 cost of living allowance (a total of $57.58).
General wage increases in each year of the agreement with 10% in year one, 2% in year two and 3% in year three.
Reactivation of the Cost of Living Allowance (COLA) in December 2024.
Wage progression reduced from 8 to 4 years.
Start rate for Temporary Part Time and production workers increasing from $24.26 to $29.67/hr., further increasing to $30.26 within 12 months, and $31.16 by the end of the agreement.
Additionally, GM agreed to the conversion of all full-time temporary workers, with at least one year of seniority at ratification, to permanent status. At Oshawa Assembly, the company agreed to eliminate the use of the full-time temporary classification by Aug. 1, 2026.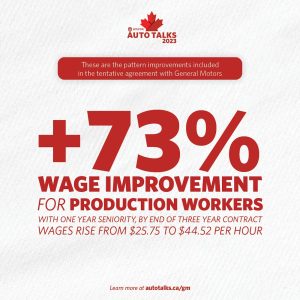 Money, money, money
Workers also secured a $10,000 Productivity and Quality bonus for full-time employees, including current temporary full-time as well as $4,000 for Temporary Part Time.
The company agrees to improvements to all pension plans, mandatory company contributions to the DC plan increase from 4% to 7%. Defined Contribution plan members will transition to a new Defined Benefits style pension for current plan members and all new hires on Jan. 1, 2025.
There will be new quarterly payments unique to Canadian retirees, called the Universal Health Care Allowance. These quarterly payments will continue in each year of the 3-year agreement. Plus, the union got two new additional paid holidays: Family Day and National Day for Truth and Reconciliation.