A combination of factors, including strong income growth and lower prices, made new vehicles more affordable in September than they were in August as well as the year-ago period.
A drop in new vehicle prices and a rise in the income of Americans combined to make new cars, trucks and utes more affordable in September. More importantly, it was the first time in four years, there was a year-over-year decline.
According to the Cox Automotive/Moody's Analytics Vehicle Affordability Index (VAI), the average monthly payment of new vehicles fell 0.8%. Also, the number of median weeks of income needed to buy a new vehicle also declined in September to 42.2.
The numbers have been falling for most of this year. Last month, the median weeks was 42.6. The decline is noteworthy for a couple of reasons, starting with the fact that the affordability improvement comes despite rising interest rates on new vehicle loans. The typical new vehicle loan interest rate rose to a new high: 10.48%.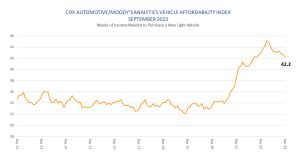 However, median income grew last month by 0.3% and the average new vehicle transaction price fell 0.5%. So despite the high interest rates, what Americans paid each month for a new vehicle fell 0.8% to $765. That's down from $771 in August. Though the number may seem shockingly high, the peak was last December when the big red holiday bow on top of the new car cost an average of $794 a month.
Year-over-year improvement
Also important is the fact that for the first time since 2019 — when new vehicle prices really began to escalate — the affordability number dropped on a year-over-year basis. In September 2022, the median number of weeks was 42.9.
New-vehicle transaction prices averaged $47,899 last month, lower than a year ago when prices were $48,259. Interest rates last month, however, were two and a half percentage points higher than one year ago.
Even with significantly higher loan rates, there is good news for buyers: The estimated number of weeks of median income needed to purchase an average new vehicle last month was down 1.6% from last year.