Ford Motor Co. temporarily halted work on the $3.5 billion battery plant in Marshall, Michigan it announced earlier this year, and it raised the question of whether it will permanently abandon the project.
The automaker issued a statement explaining, "There are a number of considerations" behind the decision, among other things, questions about whether it can "competitively operate the plant." The project had already come under fire due to the role that will be played by Chinese battery manufacturer CATL. Some local residents in Marshall also pushed back against the project which would take over a 950-acre wooded site.
But Ford's decision generated immediate fire from the United Auto Workers union, which is now 12 days into against Ford and its crosstown rivals General Motors and Stellantis.
"A shameful threat"
The three manufacturers are each planning to build an array of battery plants across the U.S. to supply the EVs they're adding to their fleets. But since those facilities involve joint venture partners including CATL, LG Energy and others, the automakers insist they cannot automatically grant the UAW the right to represent workers.
The one exception came during the past month when GM said the union won approval at its first new Ultium battery plant in Lordstown, Ohio.
Responding to Ford's decision to pause work at the Marshall plant, UAW President Shawn Fain issued a statement on the former Twitter, now known as "X," declaring the move "a shameful, barely veiled threat by Ford to cut jobs. Closing 65 plants over the last 20 years wasn't enough for the Big Three, now they want to threaten us with closing plants that aren't even open yet. We are simply asking for a just transition to electric vehicles and Ford is instead doubling down on their race to the bottom."
Ford's EV plans
Each of the Detroit Big Three has laid out expansive plans to shift to EVs. GM, for one, expects to entirely abandon internal combustion engines in its retail fleet by 2035, with dozens of all-electric models due in showrooms this decade. Ford, meanwhile, has already launched both the F-150 Lightning pickup and the Mustang Mach-E SUV.
Ford currently uses lithium-ion batteries in those products which, on some versions, can deliver more than 300 miles per charge. But their packs are expensive, and Ford believes it can win over more buyers with an alternative chemistry called lithium iron phosphate. LFP batteries are cheaper, though they do sacrifice some range.
A controversial partnership
To bring that technology to market, Ford has partnered with CATL. More formally known as Contemporary Amperex Technology Co., it is the world's largest battery manufacturer and already provides LFP cells to Tesla, as well as many of the major Chinese EV brands.
The partnership has generated significant controversy at a time of strained relations between the United States and China. The Biden administration's Inflation Reduction Act, passed in August 2022, encouraged automakers to produce their batteries domestically – one of the steps required to provide EV buyers with up to $7,500 in tax credits.
But even plans to have CATL batteries produced in the U.S. has generated pushback. Earlier this year, the state of Virginia rejected plans by Ford to set up its battery plant there. Following his State of the Commonwealth speech last January, Gov. Glenn Younkin told reporters he "felt that the right thing to do was to not recruit Ford as a front for China to America."
Pushback in Michigan
Michigan government officials have taken a more positive position on the project, lawmakers in June voting to provide more than $120 million in assistance to help prepare the Marshall site. But later that month, some local residents filed suit hoping to block the project. They raised concerns about the plant's impact on what is now a rural community — though Ford has said it will try to minimize that impact by turning half of the site's 1,900 acres into park land.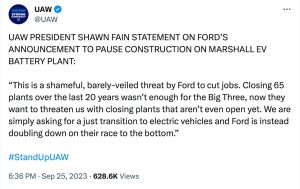 While the prospect of adding 2,500 new workers to its rolls is something the UAW looks forward to, the union has mixed emotions about the switch to EVs. Battery-electric vehicles have significantly fewer moving parts than a gas-powered vehicle. And since much of the pack's production can be automated, EVs will require less manual labor, as Ford CEO Jim Farley pointed out earlier this year.
As production volumes rise, that is expected to help offset the high cost of batteries, helping bring EVs closer to price parity with conventional vehicles.
No timetable
But officials with Ford, GM and Stellantis have warned that the demands the UAW has laid out could counter such benefits and make the Detroit automakers non-competitive with rivals — especially those like Tesla, Volkswagen, Hyundai and others operating non-union plants in the U.S.
Ford continues to move ahead on construction of additional battery plants in Tennessee and Kentucky.
When originally announced, the Ford-CATL facility was set to launch production in 2026. The second-largest Detroit automaker did not say when it might announce whether it will resume work in Marshall or kill the project entirely.