UAW President Shawn Fain broke his pattern of announcing expansions of the union's stand-up strikes on Fridays when he sent workers at Ford's Kentucky Truck Plant to the picket lines Wednesday after Ford's latest offer wasn't significantly better from its previous ones.
In a surprise move, the United Auto Workers suddenly expanded its stand-up-strike against Ford Motor Co. when more than 8,700 workers walked off the job at the company's most profitable assembly plant, Kentucky Truck Assembly in Louisville, Kentucky.
Ford quickly responded by describing the union's action as an "irresponsible" escalation of its contract fight with the automaker.
"We have been crystal clear, and we have waited long enough, but Ford has not gotten the message," said UAW President Shawn Fain in announcing the expansion of the strike.
"It's time for a fair contract at Ford and the rest of the Big Three. If they can't understand that after four weeks, the 8,700 workers shutting down this extremely profitable plant will help them understand it."
Big, but unsurprising move
Ford said the decision by the UAW to call a strike at Ford's Kentucky Truck Plant is grossly irresponsible but unsurprising given the union leadership's stated strategy of keeping the Detroit 3 wounded for months through "reputational damage" and "industrial chaos.
"Ford made an outstanding offer that would make a meaningful positive difference in the quality of life for our 57,000 UAW-represented workers, who are already among the best compensated hourly manufacturing workers anywhere in the world," the company said in a statement.
"In addition to our offer on pay and benefits, Ford has been bargaining in good faith this week on joint venture battery plants, which are slated to begin production in the coming year.
"The UAW leadership's decision to reject this record contract offer — which the UAW has publicly described as the best offer on the table — and strike Kentucky Truck Plant, carries serious consequences or our workforce, suppliers, dealers and commercial customers," the company said as doubled down on its strategy of appealing to the economic interests of workforce, which is older and more experienced than those at GM or Stellantis.
Ford also has insisted none of its workers are threatened by the transition to EVs. Ford is sticking with its position the battery plants essential to the shift to electric vehicles are beyond the scope of the current negotiations with the United Auto Workers, which have led to the first strikes at Ford by the union in nearly 50 years.
"While Ford remains open to the possibility of working with the UAW on future battery plants in the United States, these are multi-billion-dollar investments and must operate at competitive and sustainable levels," Ford said in a statement issued after the UAW announced General Motors had agreed to place battery plants under the GM-UAW master agreement.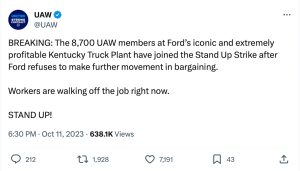 GM agrees to change
The breakthrough in the UAW negotiations with GM is being hailed by UAW President Shawn Fain, who agreed to suspend plans for a targeted strike at GM's assembly plant in Arlington, Texas, which builds full-size sport utility vehicles and is considered GM's most profitable assembly plant in North America.
"GM has now agreed in writing to place their electric battery manufacturing under our national master agreement." Fain announced last week. "We've been told for months this is impossible," adds Fain, who also acknowledged during his Facebook Live appearance last Friday the union remains far apart with all three of Detroit's automakers on several key issues such as pensions, eliminating the tiered-wage structures and shortening the work week to 32 hours.