Consumers and automakers alike are grappling with the sudden changes to EV prices occurring what seems to be weekly. Nissan is celebrating this week as the Leaf suddenly qualified for half the credit while Tesla is warning it may only qualify for half the credit in the new year.
Sales of electric vehicles have been on the rise, in part, due to the federal tax credits available to buyers; however, automakers and consumers are still struggling to find out what vehicles are eligible and how much — and those facts keep changing.
For example, Nissan revealed Tuesday that the 2024 Leaf, the original mainstream EV, "may qualify" for half of the $7,500 tax credit from the Inflation Reduction Act. Mind you, buyers must qualify for the purchase and income qualifications and buy the vehicle by Dec. 31 — and you'll get just $3,750.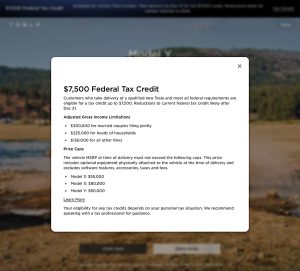 "For more than a decade, the Leaf has been one of the most attainable electric vehicles on the market," said Judy Wheeler, divisional vice president, Nissan U.S. Sales and Regional Operations, in a statement. "Eligibility for part of the federal EV tax credit puts Leaf within reach for even more customers who are ready to make the switch to an EV."
Information about the Nissan Leaf is available here, and Nissan warns, "Interested buyers should consult with their tax advisor about any potential federal and state tax credit eligibility." Sage advice.
Tesla taking a cut
While Nissan was happy — or happier — with getting the $3,750, Tesla is warning potential buyers that's what's coming. However, if they make a move before the end of the year, they could qualify for the entire $7,500.
Tesla did warn potential buyers this summer the amount they might qualify for could be lower than the max, but didn't offer an actual number. However, now one cannot miss it: it's at the top of its landing page for its website.
"$7,500 Federal Tax Credit. Available for certain Tesla Models. Take delivery by Dec. 31 for full $7,500 credit. Reductions likely for certain vehicles in 2024," it proclaims. Then it provides a link for details.
The link takes you to a page that basically warns you that all of the price cuts the EV maker implemented in 2023, helping its vehicles meet the target are probably going away next year.
Here's what it says: Price Caps
The vehicle MSRP at time of delivery must not exceed the following caps. This price includes optional equipment physically attached to the vehicle at the time of delivery and excludes software features, accessories, taxes and fees.
Model 3: $55,000
Model X: $80,000
Model Y: $80,000
Tesla also offers potential buyers a chance to Learn More about what the rules are behind the tax credit and what vehicles qualify.