Sometimes you can't wait for the day to end, and that's probably the case for Tesla investors who watched the stock stumble for two straight days since the automaker delivered a weak third-quarter earnings report. Among those hardest hit, CEO Elon Musk whose own holdings have now lost more than $20 billion in value.
Tesla stock has long had a history of riding the roller coaster, but few analysts predicted the sort of pummeling it's taken this week after the Texas-based EV manufacturer reported unexpectedly weak third-quarter earnings.
Some of the blame appears directly centered on Elon Musk, the CEO warning analysts and investors during an earnings call that weak sales and lower margins are likely to sting Tesla for some time. Making matters worse, Musk had some tire predictions about the Tesla Cybertruck, the EV pickup set to go on sale late next month, more than a year late.
"We dug our own graves with the Cybertruck," said the South African-born executive who has now lost more than $20 billion of his personal fortune due to Tesla's current slide.
Taking a dive
Shares fell 9% on Thursday and, as the end of the week's trading fast approached on Friday, Tesla stock — traded on the Nasdaq under the symbol TSLA — was off another 8.12%, floating around $213 a share. At one point, the numbers were flirting with the $211.99 mark.
Now, as bad as that all sounds, Tesla is flying relatively high compared to the way the year began for the automaker, when it hit a 52-week low of $101.81 a share.
And that was bad news for Musk, who suddenly found himself having to settle for being only the second — and at one brief point third — richest man in the world.
His personal fortune, which is largely based on holding 13% of Tesla's outstanding shares, started rebounding before the spring thaw and soared to unheard-of levels by June, when Tesla hit its peak of $299.29.
With that much tied up in Tesla, Musk permanently occupies the roller coaster's front seat. Thursday's 9% slump cost him more than $16 billion, his net worth dipping to an estimated $210 billion. Depending upon how after-hours trading goes, the South African-born exec could see that dip well below the $200 billion mark, The post market trend appears to be down again.
Still, that would place him at least $40 billion ahead of the globe's second-richest person, Bernard Arnault, head of the LVMH luxury empire, according to the Bloomberg Billionaire Index.
Don't call it a comeback
Whether Tesla will make another rebound in the coming days is far from certain, despite Tesla's long up-and-down history.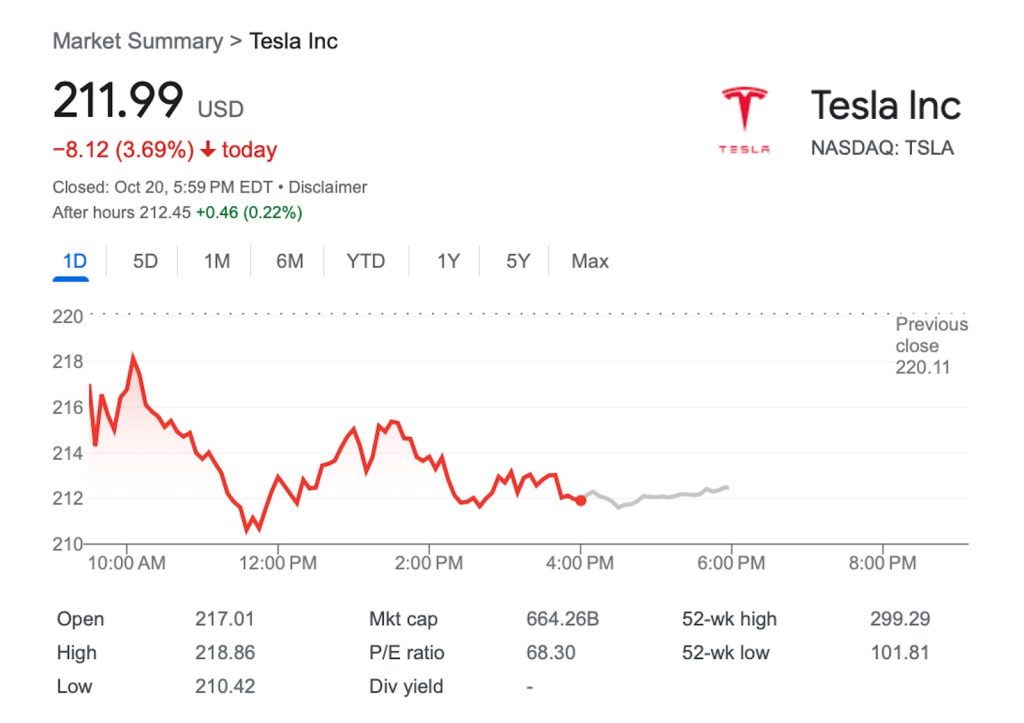 When Tesla revealed its numbers for the third quarter, investors and analysts discovered revenue slipped to $23.4 billion, missing the consensus forecast of $24.06 billion. The automaker's adjusted earnings-per-share of 66 cents also missed the 74-cent consensus estimate.
Musk himself helped add fuel to the Tesla sell off, sounding surprisingly pessimistic during Wednesday evening's long earnings call. Certainly, he has reason for concern. The automaker already revealed third-quarter vehicle sales fell short of expectations — and that was despite significant price cuts so far this year.
Some observers tried to soft-peddle the shortfall, noting Tesla has cut production as it prepared for both the Cybertruck launch and a long-awaited update to the critical Model 3. But where the price cuts might have helped shore up sales, they sharply curbed what has been industry-leading margins. And there's a growing expectation that Tesla will cut prices again.
But there's clearly pessimism about Cybertruck which once seemed the source of a new pot of gold. Musk indicated bottlenecks will limit production, despite what he claimed are 1 million advance reservations. And production issues will also make it difficult to generate the sort of cash flow and margins investors had come to expect from the automaker.
Whether Tesla can bounce back again will clearly depend on the numbers it presents in the months ahead. Wall Street still has a consensus target of $266, but the number of analysts who've begun downgrading their numbers seems to be growing.
As for Musk, he's clearly taken a financial hit, but one that only really matters from a bragging rights point of view. Barring a continuing sell-off in the days and weeks to come he's likely to remain the world's richest man.