When UAW President Shawn Fain said the union was looking not only to win back what the union lost nearly two decades ago and to get more, but also to revive the labor movement in the country, he didn't know how quickly that would come to his own industry.
UAW President Shawn Fain clearly had big goals in mind when getting ready to negotiate the new contract with the Detroit Three.
Fain not only wanted to secure the return of the benefits ceded to the automakers two decades ago, but he also wanted to take his members in the future with record-setting wage increases and benefits not imagined heretofore.
"We were relentless in our fight to win a record contract, and that's exactly what we accomplished," Fain said in a video statement released Monday afternoon after locking down a tentative contract with General Motors.
Dark past
A year ago, it seemed unlikely the union could win anywhere near the sort of contract it secured. It was still reeling from an embarrassing bribery scandal that saw a number of officials, including two former presidents, go to jail.
But then Fain delivered another gut punch to the UAW establishment, winning a hotly contested race that marked the first time the union's rank-and-file got to directly vote for union leaders.
He made it clear from the moment he was elected that he wouldn't play by the old rulebook, almost immediately dubbing the Detroit automakers "the enemy," and then refusing to shake hands with company officials as negotiations began back in July.
It helped that the union was soon caught up in what former UAW official Brian Rothenberg described as a "perfect storm." Workers across the U.S. had grown increasingly angry as corporate profits and executive wages have soared, even while middle-class incomes have stagnated.
Worse, high inflation was eaten away at their buying power. By the time the UAW began bargaining there were clear signs organized labor was no longer in retreat.
Unexpected wins
"They hit on all cylinders," Rothenberg told Headlight.News, for the most part winning "historic" gains.
That doesn't mean the UAW got everything it sought. It aimed for 40% raises. In the end, it settled for 25%, along with a renewed cost-of-living allowance and other improvements in wages and benefits. But that still translates into more than $80,000 annually in the final year of the 4.5-year agreements. Add bonuses, overtime and profit-sharing and that could top $100,000, according to GM manufacturing chief Gerald Johnson. And that doesn't even factor in improvements to medical coverage, retirement plans and other benefits.
"Once again, we have several astonishing victories," Fain said in a video statement released Monday afternoon from the UAW's headquarters along the Detroit River.
While the union's bid for a 32-hour work week was rebuffed, it still won members more time off.
And each of the automakers made new commitments to spending billions on new plants and products. Over the weekend, after announcing a settlement with Stellantis, Fain revealed that the company agreed to reopen the assembly operation in Belvidere, Illinois it closed earlier this year. It will be used to produce a new, midsize pickup for the Ram brand, while a battery plant will be opened alongside.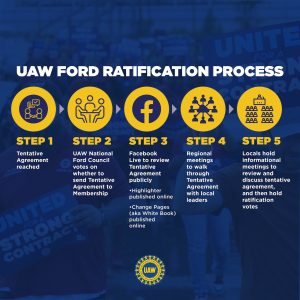 "It's clearly a lucrative settlement for the union," but it's another matter entirely for GM, Ford and Stellantis, cautioned Marick Masters, a professor of business, and a labor specialist at Wayne State University in Detroit. "It substantially raises labor costs … and complicates things going forward, especially at a time the industry is making a costly transition to electric vehicles.
Impact for Detroit automakers
Ford estimated its settlement will add up to $850 to $900 a vehicle. The numbers are believed similar for GM and the U.S. arm of Stellantis. Those added costs add to what was already a substantial labor cost gap when looking at foreign-owned "transplants," like the BMW factory in Spartanburg, South Carolina, and the Toyota plant in Georgetown, Kentucky.
Even before the strike, their UAW workers were costing an average $66 an hour in wages and benefits, according to Kristin Dziczek, a policy adviser at the Federal Reserve Bank of Chicago. By comparison, labor costs for foreign-owned "transplants," such as the Toyota factory in Georgetown, Kentucky, range from $45 to $65. And the figure is even lower at the two Tesla plants in California and Texas, according to various analysts' estimates.
How much the labor cost gap will widen is uncertain, however. Over the past few decades, the foreign-owned manufacturers have traditionally raised their own wages and benefits in line with the gains the UAW has made. And they'll be under "even more pressure" to do that again this year, said Masters.
Launching pad
That's because Fain has made it a high priority to organize those non-union facilities. Whether he'll succeed is another matter entirely.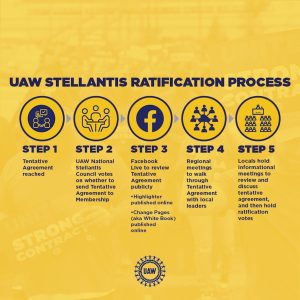 The UAW has repeatedly failed in its transplant organizing efforts, most recently being rejected twice by workers at the Volkswagen plant in Chattanooga, Tennessee. And that's despite management indicating it would be willing to accept the union.
The current, increasingly pro-labor mood being seen around the country — and underscored by strong wins by UPS, United Airline pilots and film and TV writers — could give the UAW new momentum, especially in light of its big gains in Detroit, said Rothenberg.
Among the various analysts and labor experts Headlight.News has spoken to, workers at Tesla appear to be the one most likely to give the UAW a chance to expand beyond Detroit. The company has been a hotbed of labor frustration, its Fremont, California plant, in particular, the source of numerous disputes over low pay, high injury rates, and lawsuits centering on racial and sexual harassment.
But Masters expects that "Elon Musk is certainly going to resist any organizing drive."
Not waiting
While Fain's efforts were not only designed to get current members what they "deserved," but also to help the union make a strong case for a new run at the transplants in the Southeastern U.S.
How could those workers, who long pointed to the fact they had much of — or even better — the wages, benefits and working conditions than they're UAW cousins talked about already without the dues, ignore 25% better?
Who would get them their share of the pie? The UAW, of course.
"One of our biggest goals coming out of this historic contract victory is to organize like we've never organized before," he said. "When we return to the bargaining table in 2028, it won't just be with the Big Three. It will be the Big Five or Big Six."
Uh … no. However, he may have helped them get those gains anyway.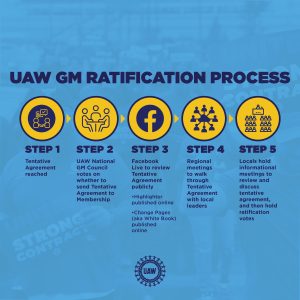 Most observers believed the transplants would simply try to get by with small raises until things came to head; however, Toyota took the first step forward to keeping the status quo Wednesday, announcing it was raising the top pay will receive a wage hike of about 9% effective on Jan. 1, the company confirmed. Other nonunion logistics and service parts employees are getting wage hikes.
The Japanese automaker is reducing the time needed for U.S. production workers to reach top pay to four years from eight years and increasing paid time off.
"We value our employees and their contributions, and we show it by offering robust compensation packages that we continually review to ensure that we remain competitive within the automotive industry," Chris Reynolds, Toyota Motor North America's executive vice president, said in a statement.
And perhaps the most important number, the company's production workers in Kentucky at the top pay scale will see their wages rise by $2.94 to $34.80 an hour. The big question is: who's next?
Michael Strong contributed to this story.