When Morgan Faulkner spotted the distinctive, stainless steel shape moving down the road in Mill Valley, California last week it more than peaked her interest. Like so many American motorists, she's been patiently waiting for Tesla to finally put its all-electric Cybertruck on the road.
First introduced four years ago next month, CEO Elon Musk promised to have it in production two years later. As with so many other products and plans the South African-born executive has laid out, however, the delivery of the first Cybertruck has repeatedly been delayed. Most recently, Musk promised to hand over the keys to the first owners during the third quarter of this year.
Yet, while plenty of car carriers have been seen hauling Cybertrucks away from Tesla's Austin, Texas assembly plant — with some vehicles spotted by folks like Faulkner driving on public roads — another target has been missed. The latest delay contributed to Tesla's sales shortfall during the third quarter. More significantly, analysts fear the repeated delays could hurt Cybertruck's long-term potential as a growing number of competing EV pickups come to market.
"Hit or miss? They're more likely to miss," said Sam Fiorani, chief analyst with AutoForecast Solutions.
Plenty of competition
Fiorani and other industry analysts point to the many potential alternatives coming to market. That includes the Ford F-150 Lightning which has been popular enough that Ford is upping production capacity to roll out 150,000 a year, up from the original 25,000.
Rivian has struggled to meet demand for its R1T EV pickup. GMC has faced similar struggles with its Hummer EV. Chevrolet is just finishing work on its Silverado EV, GMC set to add a second EV pickup, the Sierra EV next year. About the same time, Ram will launch the 1500 Rev. And still more are in the offing.
In the months after its November 2019 debut, Tesla claimed to have received more than 400,000 advance reservations for the electric pickup, and some fan websites put the number substantially higher. While the automakers won't discuss the status of those reservations today, the question is how many early reservation holders have stuck around.
For his part, Fiorani thinks most still are — though he stresses that holding a $100 reservation is not the same as actually committing at least $39,000 to drive home a Cybertruck. And that's the number Musk initially quoted for a base model, though the pickup is widely expected to cost more now.
Aggressive production targets
Even if just half of those reservation holders follow through, that could give Tesla a big bump once the first Cybertrucks finally do go on sale. Longer term, Tesla will have to win over a lot of other buyers.
The company has been vague about production plans, Musk, at various times, has quoted production numbers ranging from 250,000 to 500,000 a year. A "company update" from June of this year quoted a figure of 375,000, according to a report by Electrek. Even with the lower number, how fast it could get there is far from certain.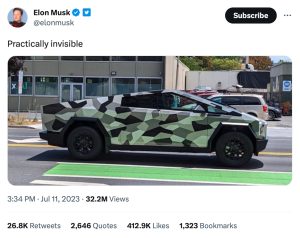 And while Fiorani and other analysts who spoke to Headlight.News expect Tesla loyalists to be open to Cybertruck's radical styling, they warn it will be a very different challenge winning over more traditional pickup buyers.
It's "hard to break into the pickup market"
The strong demand for the Ford Lightning suggests many classic truck buyers are willing to go electric. And Mike Koval Jr., who until recently headed the Ram brand, said he was surprised by the level of interest Ram 1500 buyers were showing for the 1500 Rev.
But that's a potential problem for Tesla, said Fiorani. "Ask Nissan and Honda how hard it is to break into the pickup market."
The former brand's Titan is little more than an asterisk on the truck sales charts. Honda scored little better with its original Ridgeline. Its design was considered relatively radical when it first debuted in 2006. Only by switching to more conventional styling has it lately gained any traction.
How more traditional truck buyers will react, never mind other who aren't Tesla loyalists, is the real question.
A "sore thumb"
Complicating matters, even Tesla has acknowledged the struggles it faces just getting the trucks out the door in acceptable form.
There is no question that Tesla's underlying drivetrain and electronics technologies are impressive, even its fiercest competitors agree. But the automaker has long had trouble building trouble-free vehicles, something reflected in poor quality numbers reported by the likes of J.D. Power and Consumer Reports.
With nary a curve to be seen on its entire body, fitting all the pieces together can be a potential nightmare, something Musk himself acknowledged in a posting to followers in August. He noted he "just drove the production candidate Cybertruck at Tesla Giga Texas," adding, "Due to the nature of Cybertruck, which is made of bright metal with mostly straight edges, any dimensional variation shows up like a sore thumb."
Even for Tesla loyalists, significant misfits could be a dealbreaker. Cybertruck almost certainly will have the power pickup buyers typically expect, that seems likely. But the bigger question is whether it will have the functionality and durability truckers demand.
For now, potential buyers — along with analysts, investors and automotive reviewers, will have to remain on standby. But while Tesla may have missed its latest deadline, the fact that car carriers are starting to roll and undisguised Cybertrucks are being seen on public roads suggest the long wait may soon be over.