The United Auto Workers Union reached a tentative settlement with Ford Motor Co. Wednesday evening, nudging the automaker to accept a wage hike averaging 25% over the course of 4.5 years for its UAW workers. The union also agreed to order an immediate end to the walkout though it will take weeks before all is back to normal, Headlight.News reports.
Ford reached a tentative settlement with the United Auto Workers union that gives it much — though by no means all — of what it wanted.
The UAW broke precedent in a number of ways since beginning negotiations with Detroit's Big Three automakers in July and then declaring a strike when Ford, General Motors and Stellantis each failed to reach agreement on new contracts by the 11:59 p.m. deadline on Sept. 14. Now, six weeks later, Ford's U.S. hourly workers are being told to end their walkout even before a ratification vote takes place. But it is likely to take weeks before all facilities hit by the strike can resume operations, Headlight.News has learned.
"We told Ford to pony up and they did," UAW President Shawn Fain said in a video post on Facebook, adding that the strike at Ford "has delivered."
A new type of union
What had been a contentious battle between labor and management sees the UAW declaring victory. But despite winning new cost-of-living benefits and a wage hike averaging 25% over the life of the contract — and substantially more for temporary employees — the union did not come close to gaining everything it sought. Notably absent from the new contract offer: a 32-hour work week.
Fain has been fond of calling this year's contract talks "historic." Clearly, precedent was broken repeatedly. That began shortly after the union leader won a contentious runoff vote last winter, defeating the UAW's incumbent president, Ray Curry, in the first direct vote by the rank-and-file. Previously, they only voted for delegates who then picked the union president.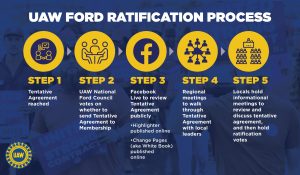 Fain immediately skipped the normal pleasantries, calling the automakers "the enemy" and refusing to participate in the handshake "grip-and-grin" sessions at each of the automakers marking the start of bargaining.
The most significant move was then to b
argain to the deadline with all three automakers, rather than first focus on a "strike target" likely to give the best settlement. When none of the companies delivered on a list of 700 demands, the UAW then struck all three simultaneously. Initially, it hit one assembly plant for each manufacturer, subsequently adding more facilities to ramp up pressure.
The big change
The breakthrough occurred after ordering members at the big Ford F-Series plant in Louisville, Kentucky to "stand up" and walkout last week. That factory is the automaker's most profitable, generating about $25 billion in revenue annually, according to Ford.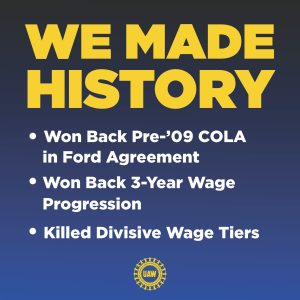 But the UAW was also feeling pressure, notably from workers who were out on the picket line in places like Wayne, Michigan making $500 a week in strike pay and watching as colder, rainier weather moved in.
Pressure to settle "came from both sides … it was a combination of things," one company insider told Headlight.News on background.
"We are pleased to have reached a tentative agreement on a new labor contract with the UAW covering our U.S. operations," Ford President and CEO Jim Farley said in a statement.
Sources have indicated that non-economic issues were settled weeks ago. But it took coming to terms on the dollars-and-cents to bring the two sides to agreement.
More change
In another unusual move, Fain released a number of settlement details Wednesday night, starting with the fact that Ford will provide a 25% wage hike over the course of the unusual 4.5-year contract. (The norm has long been four years and the carmakers had wanted five.) That starts with an immediate 11% increase upon ratification.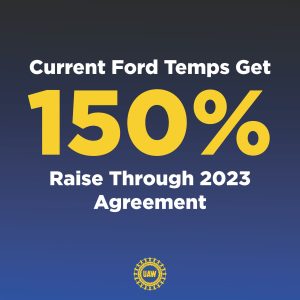 But the UAW also gets back the cost-of-living allowance, or COLA, given up in a concessionary contract signed in 2007. So, it's estimated wages actually will go up 33% over the life of the agreement, to around $40 an hour.
And, based on estimates Ford and the other automakers have made in recent weeks, that should bring hourly workers' pay to over $80,000 annually, climbing to more than $100,000 for many when factoring in overtime, bonuses and profit sharing.
The UAW originally had sought a 40% raise before COLA. And the union did not get Ford to completely eliminate the two-tier wage system it also inaugurated during the Great Recession, but did get it to cut back at some plants.
The automaker also will get to continue using temporary, or fill-in, employees. But they will see wages go up as much as 150% over the life of the contract and now reach top pay levels within three years.
Significantly, Ford has agreed to let the UAW strike over planned plant closings, a key issue for the union during a time of major change as the automaker — and the rest of the industry — begins shifting to battery-electric propulsion.
It's not yet been made clear whether Ford has agreed to go ahead with plans to build a new battery plant in Marshall, Michigan. After the strike began it warned that it might scrub that project if new labor costs were to make it uncompetitive.
Not a quick return to normal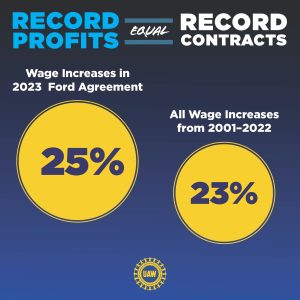 While the UAW has officially ordered an end to the strike at Ford, that doesn't mean things will get back to normal immediately. Along with plants that were struck, the automaker had to shutter some other operations, either because they provided parts for the idled factories or because they couldn't get parts from plants where workers had walked out.
"It's an interconnected system that has gone awry," said Ford spokesman Dan Barbossa.
How long it might take to get back to normal was addressed by Liz Door, Ford's chief supply officer, during an Oct. 12 call with reporters.
"In the U.S. alone," she explained, "over 600 parts supplier locations and thousands of supplier jobs support Kentucky Truck plant. We're hearing from our suppliers as they evaluate the restart process, that it will take up to four plus weeks to achieve our full production rates. Some suppliers will have to recruit for new hires to replace employees who leave for other work. The replacement workforce will need training if this matter does not resolve itself quickly."
Fain is expected to outline the settlement in greater detail during a Facebook Live presentation for Ford workers on Sunday. It is likely to be closely watched by bargainers and executives at GM and Stellantis, as well.
"This lays the groundwork for the next two contracts and they should fall in line fairly quickly because all three were within a narrow gap of each other," Sam Fiorani, vice president of global vehicle forecasting at AutoForecast Solutions, told Reuters.
Those two automakers are reportedly close to Ford's terms in some areas, at least based on what Fain had indicated during his most recent Facbook Live address. But there remain gaps on wages and COLA, among other issues.
But the two Detroit manufacturers are now at a competitive disadvantage that might force their hands.
All told, the economic impact of the six-week walkout has been severe, as GM underscored during an earnings call with analysts and reporters on Tuesday.
According to the Anderson Economic Group, the total losses from the strike has now come to $9.3 billion.