The 2024 Volvo EX30 is one of the most critical new entries from the Swedish automaker in decades. It's the first designed to be exclusively battery powered, anchoring Volvo's ongoing shift to all-electric propulsion. Small on the outside, EX30 is surprisingly roomy inside and provides plenty of features and performance at a reasonable price tag — as Headlight.News discovered during several days of driving in Barcelona, Spain.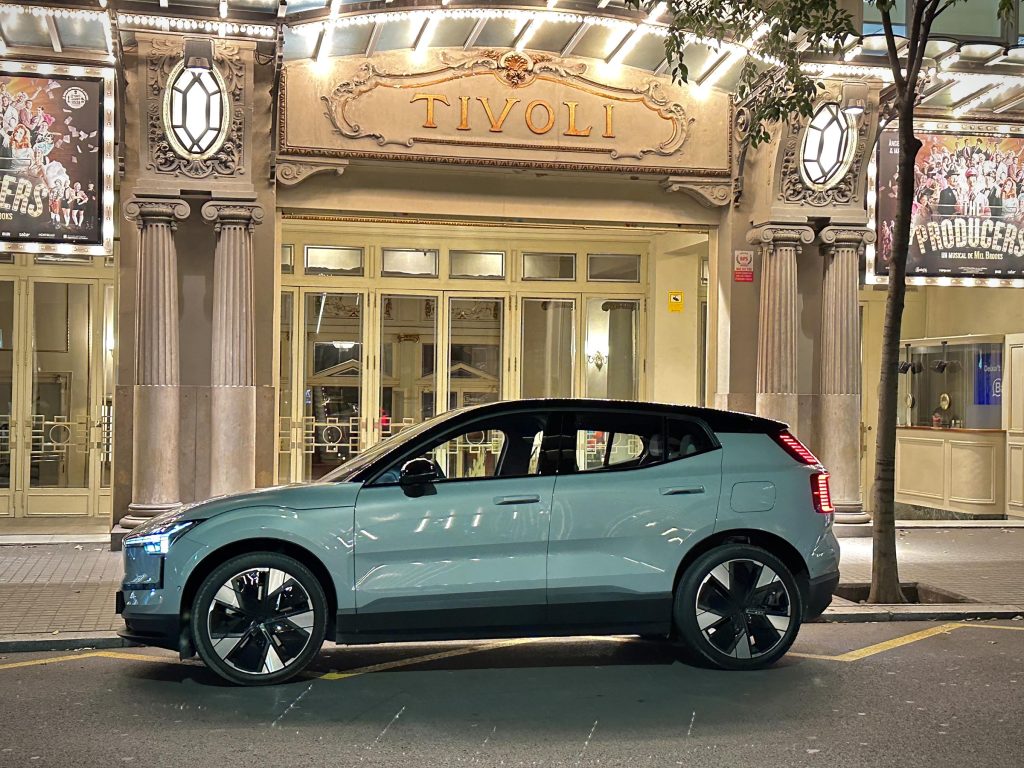 Volvo is no newcomer to electrification. It already offers an assortment of plug-in hybrids and battery-electric vehicles like the XC40 Recharge. But those have only been the appetizers, if you will, as the main course is soon set to roll into showrooms around the world.
Where the XC40 line is offered with a variety of powertrain options, the 2024 Volvo EX30 will be exclusively offered in all-electric form. It's the first in a variety of models to follow, with the flagship EX90 to go into production later next year.
American motorists will get a choice of two versions of the EX30, one with a single motor driving the rear wheels, the second a two-motor, all-wheel-drive package that, Volvo notes, will be the fastest product it's ever brought to market — with 0-60 launch times of a factory-estimated 3.4 seconds. What may prove especially appealing, however, is EX30's price tag.
Good things come in small — and affordable — packages
At a time when the typical battery-electric vehicle offered in the U.S. averages around $60,000, Volvo's new entry starts at just $34,950 for the base, single-motor Core package. At the upper end, a twin-motor EX30 Ultra goes for $46,600. (Add $1,195 to both figures. There are only a handful of options and, even the entry Core package is surprisingly well equipped.
One downside: as an import, the EX30 won't qualify for incentives under the Inflation Reduction Act — at least not if you purchase it outright. But you should be able to get up to $7,500 in tax credits if you lease. And, under revised rules taking effect in January, that money can be applied as a deposit up front.
To add some perspective, the EX30 measures in at just 166.7 inches, bumper-to-bumper, about eight inches less than the XC40 Recharge's. But it's wheelbase is just two inches shorter, the new EV's wheels pushed out towards the corners. So, the dimensions of the two EVs' cabins and cargo compartments are surprisingly close. And by adopting a skateboard-like platform, with batteries and motors mounted low, the new Volvo features a flat load floor.
Power to the people
One of the benefits of battery propulsion is the power it can deliver, especially right off the line thanks to the instant torque electric motors pump out. With the 2024 Volvo EX30, even the base package makes some impressive numbers.
The single-motor model makes 268 horsepower and 253 pound-feet of torque. That will launch you from 0-60 in 5.1 seconds. With the Twin Motor Performance Package the EX30 bumps that up to 422 hp and 400 lb-ft, while slashing launch times to just 3.4 seconds.
While not best in class, the rear-wheel-drive EX30 yields a more than acceptable 275 miles per charge, while the sacrifice for the all-wheel-drive version is a mere 10 miles.
Charging
Those range numbers are all the more impressive considering the U.S. version of the EX30 is fitted with a relatively modest-sized 69 kilowatt-hour lithium-ion battery pack (of which 64 kWh are actually used).
The compact size of the pack allows for relatively rapid recharging. Plug into a public quick charger producing at least 153 kilowatts — a relatively normal number — and the Volvo EV will go from a 10% to 80% state of charge in just 26.5 minutes, the automaker claims.
Volvo has not yet released charging times for 240-volt home chargers but, based on the size of the pack, a drained battery should get back up to a 100% SOC in less than eight hours.
A familiar design
While Volvo's spinoff Polestar has opted to develop a unique new design language, the new EVs from Volvo hew a bit closer to the familiar. No question, they've spent plenty of time in the wind tunnel, good aerodynamic shape is critical to maximizing range and performance. And, by moving the drivetrain under the load floor, that skateboard platform allowed Volvo's product development team to tweak key dimensions to enhance interior space.
Still, fans will clearly recognize the overall shape of the 2024 EX30, and that sense of familiarity is enhanced by the use of traditional Volvo cues, such as the "iron mark" logo on the now-sealed grille, as well as an updated take on the brand's trademark Thor's Hammer headlights.
The 2024 Volvo EX30 will be offered with either 19- or 20-inch wheels and tires. But note the automaker plans to introduce another version of the EV late next year. The EX30 Cross Country, will get more ground clearance, 18-inch wheels and all-terrain tires, skid plates and other useful features for mild to moderate off-roading.
A class-above cabin
One of the first things I noticed about the EX30 was the size of its interior. At 6-foot 2-inches tall, I often wind up squeezing rear-seat passengers when I climb behind the wheel. Not the case in the roomy new Volvo. The cabin is more than a class-size larger than what you'd expect based on the EV's exterior footprint. In terms of cargo space, the EX30 delivers up to 31.9 cubic feet, as well.
Like other Volvo products, the look is Swedish minimalist. But, even with the base Core package, that doesn't translate into what one Volvo exec described as "poverty spec." There's a nice level of refinement and detailing. As with the rest of the Volvo lineup, there's an emphasis on sustainability, with numerous cabin pieces and parts using recycled materials. The shelf on the instrument panel, for one thing, made of old vehicle window frames normally sent to landfills.
The Volvo product development team did have to put a premium on cost, of course, to bring the EX30 in at a starting price under $35,000. One way it did that could prove controversial: the decision to delete a conventional gauge cluster.
Instead, data like vehicle speed and the battery's state-of-charge read out at the top of the 12.3-inch vertically oriented touchscreen anchoring EX30's instrument panel. Unlike some competitors, such as VinFast, which took a similar approach with its new VF 8 EV, Volvo does not offer an optional head-up display.
Technology and safety
That infotainment system now runs on the Google onboard operating system, a big improvement over the old Volvo technology. It's faster and, on the whole, easier to use, though I do have a few complaints. To set the sideview mirrors, for example, requires several taps on the touchscreen. Then you use buttons on the steering wheel to position the mirrors. I found that more difficult than it might seem on paper. Volvo reps say they're aware of the problem and aim to have it fixed before production begins.
There are the requisite USB ports and Volvo has added the ability to charge two smartphones simultaneously. Unfortunately, to start the keyless EX30 requires the use of the left charger slot. You briefly insert a key card. Once started, you can remove the card and drop in a phone.
As one would automatically expect from a Volvo, there's plenty of emphasis on safety, starting with the broad assortment of airbags, as well as the way the underlying SEA platform uses the stiff battery pack as part of EX30's crash system, helping direct impact pulses away from the passenger compartment.
In terms of advanced driver assistance systems, there are plenty, starting with blind-spot detection and forward collision warning with automatic emergency braking. This ADAS package even helps prevent "dooring" accidents by alerting occupants not to open their doors if there's an oncoming vehicle or bicycle.
Autonomous driving
Like so many competitors, Volvo is working towards an autonomous future, claiming this will help reduce crashes and save lives. For the moment, however, you still need to keep your hands at least lightly on the wheel for more than a few seconds at a time with the Volvo Pilot Assist system. And I wound up disabling it during much of my drive around Barcelona.
I was far more impressed with the EV's Park Pilot Assist which helps you find a suitable spot and then parks the EX30 entirely on its own. There's no need to work throttle and brake, as some other automakers require.
Expect to see Pilot Assist and Park Pilot continue to improve. The EX30 is equipped with smartphone-style over-the-air update capabilities. That can be used to fix faulty software, as well as remotely adding new features to the vehicle in the future.
Driving impressions
Beyond my minor gripes about the sideview mirrors, the 2024 Volvo EX30 is an EV that you can get comfortable with almost instantly.
On city streets, its small footprint makes it easy to cope with heavy traffic, and its one-pedal driving mode lets you simply modulate the throttle rather than having to keep jumping on and off the brakes. The instant torque provided by the electric drive technology means that even the base single-motor unit has more than enough acceleration to launch onto a freeway and then execute quick passes. The twin-motor's 422 hp and 400 lb-ft delivers instant, neck-snapping acceleration and will likely surprise the kid in the Mustang who expects to blow you away at a stoplight.
EX30's ride is a bit firm, especially on rougher pavement. On the other hand, I'd like less steering boost, finding it a bit too light, even after switching to "Firm" mode on the touchscreen. But the EV's near 50:50 weight balance translated into smooth and predictable handling, as I discovered to my pleasure after heading out into the hilly countryside inland from the Mediterranean coast.
High expectations
As the first dedicated EV it's offered, Volvo — and its Chinese parent Geely — has a lot riding on the launch of the 2024 EX30. It will anchor what is to become an extended range of battery-powered vehicles, Volvo intending to go all-electric by decade's end.
Based on a couple days driving near-final prototypes, I think Volvo has largely delivered on what it promised. There are a few minor complaints, several of which the automaker expects to resolve by the time the first production models reach U.S. showrooms by mid-2024.
Notably, worldwide demand for the 2024 Volvo EX30 has exceeded expectations, the automaker claims. That has led it to boost production. The EV will first be assembled at a plant jointly operated with Geely in China. A second factory in Ghent, Belgium will go online in 2025. Most or all U.S. versions of the EX30 are expected to be shipped from Europe at that point.
While the U.S. EV market share has flattened out in recent months, there's good reason to expect that Volvo will do well once EX30 deliveries begin.