If you've been holding off on buying a new vehicle now may be a good time to head over to your nearest showroom. After three years of record hikes, prices have begun to tumble as automakers build back COVID-depleted inventories. Better yet, incentives are beginning to rise, meaning you could find the best deal in years.  
Times have been tough for new car buyers. Since COVID first struck, vehicle prices have soared to record levels. Making matters worse, inventories were depleted by a combination of pandemic shutdowns and semiconductor shortages. Not only were many models hard to find but dealers often were tacking on sizable mark-ups on the most popular products even as incentives dried up and all but vanished.
The situation has turned upside down. With dealer inventories fast on the rise, it's easier than it has been in three years to find the product you want. At the same time, vehicle prices are on the slide. At the same time, incentives are on the rise again.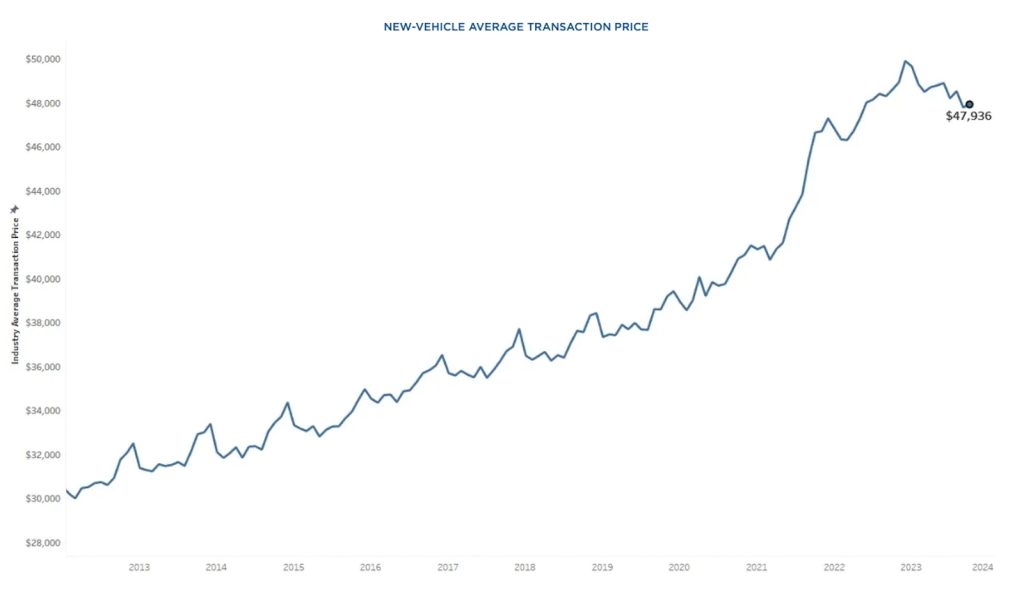 The price paid for the typical vehicle did rise about $140 in October, according to Kelley Blue Book, to $47,936. But the average transaction price — what shoppers actually pay after factoring in accessories and incentives — has tumbled by 3.5% since January, KBB said in a report noting, "as downward price pressure continues to favor buyers in the market." And there are signs the downward trend will continue
Out of the slump
"What we're seeing is that production is out of its slump from the chip shortage," said Michelle Krebs, lead analyst for KBB parent Cox Automotive. "So, inventories are rising and sales aren't as robust as they were" earlier this year.
Through much of 2022 and into early 2023 there were barely 1 million vehicles on U.S. dealer lots, echoed data from J.D. Power, about a third of what was long considered normal. With semiconductor supplies largely back to normal, production has been running at full speed, many plants putting in maximum overtime. Dealer stocks are now in the mid-2 million range, Power recently noted.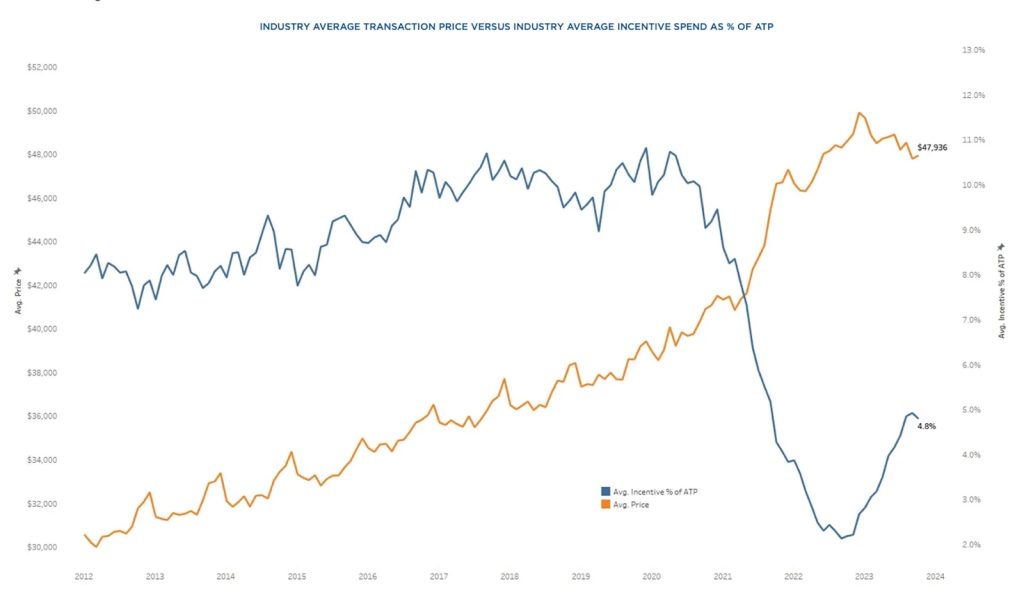 So, where dealers were demanding premiums over MSRP — some Kia retailers, for example getting $5,000 to $10,000 over sticker for the popular Telluride SUV — they're now back to bargaining.
"Deals to be had"
"There's always the special vehicle where there's still a markup," like Chevrolet's new Corvette E-Ray hybrid, said Krebs, "but asking prices are down and incentives are on the rise. So, there are deals to be had."
It hasn't been a good decade for motorists. The average transaction price for a new vehicle sold in the U.S. was around $31,000 in 2013, then surged to nearly $50,000 — an all-time record — early this year. But it fell to $47,936 in October, KBB data shows.
Some of the biggest discounts have come from Tesla, "which continues to shift pricing at a surprising pace. In fact, the price shifts at Tesla in 2023 showcase just how dynamic pricing can be with a direct-to-consumer sales model," said Rebeccas Rydsewski, Cox Automotive's research manager.
Tesla triggers a price war
After repeatedly raising prices since the introduction of its Model Y electric SUV, Tesla reversed course early this year, announcing a series of price cuts. That, in turn, triggered a price war in the EV sector. Ford, for one, cut the sticker on its F-150 Lightning pickup by as much as $10,000, depending upon the model. EV prices did rise slightly in October, however, to $51,762, up from a revised $50,326 in September.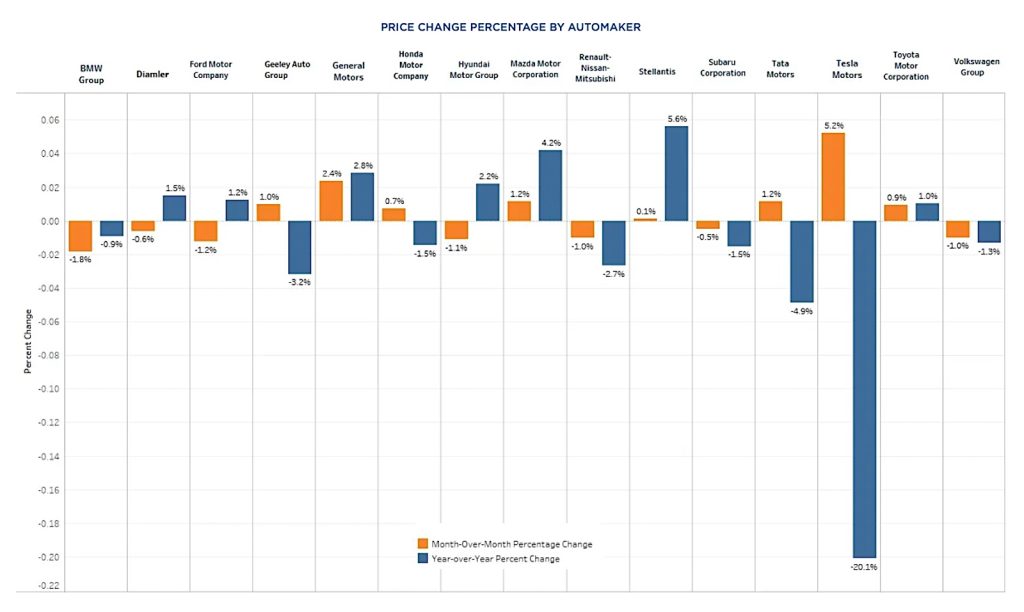 Blame Tesla which again raised prices last month. And that has had a negative impact not only on EVs, but on the overall high-end segment of the U.S. market. Luxury prices surged an average $757 in October, reported KBB. But they're still down 7.4% year over year to $62,903.
Where new vehicle prices go in the coming months is uncertain. For much of 2023, the overall market had seen the strongest sales rebound since before COVID. But demand has begun to slow down, noted Krebs.
Consumers under pressure, too
"Interest rates, affordability and consumer debts are very high," she said, adding that "Along with some consumers having to again pay student loans, those are all taking a bite out of the budget" for many potential buyers."
On the flip side, the strike by the United Auto Workers union led to big wage and benefit increases at General Motors, Ford and Stellantis. And to avoid facing the threat of a UAW organizing drive, some non-union "transplants," including Toyota, Hyundai and Honda, have announced similar increases for their own U.S. workers. Analysts like Krebs expect manufacturers to try passing those added costs on to consumers.
But, if new vehicle sales continue to lag, that will make it difficult for manufacturers to keep raising prices and, if anything, could lead to even bigger incentives in the near future.